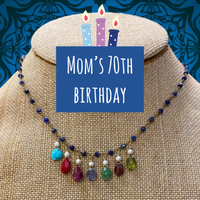 Susanna contacted me through our homepage. She was looking to create a piece for her mama that would include the birthstones of all her immediate family.Mom, Dad, children + spouses, and 2 grandchildren: each one would represent one stone in the piece.  After establishing her budget of $400, I showed her 3 choices:
that one was our first suggestion: oxidized silver chain with dangles of tiny moons... with a gold diamond star and briolettes (the teardrop shaped gems) of each beloved.
We also showed her this suggestion:
with a blue sapphire mosaic representing her birthstone, and faceted briolettes of her beloveds' birthstones.
Finally, we settled on this fabulous piece. Tiny faceted blue sapphires are wrapped one by one on gold wire to create a chain- so she is holding the family together... and the gemstones of her beloveds dangle gingerly.
The end piece was $380, just under budget. 
I LOOOOOOOOOOVE creating for my darling Sophanistas.
Feel beautiful!! And wear with much JOY, LOVELY LADY!
Comments (1 Response)
Leave a comment (all fields required)
Comments will be approved before showing up.